I didn't plan on falling in love with Spot, but he's my best friend now. He follows me around everywhere. He'll scratch at my door to let him in every night and gets really jealous if I give affection or food to his sister or any of the other dogs at my apartment.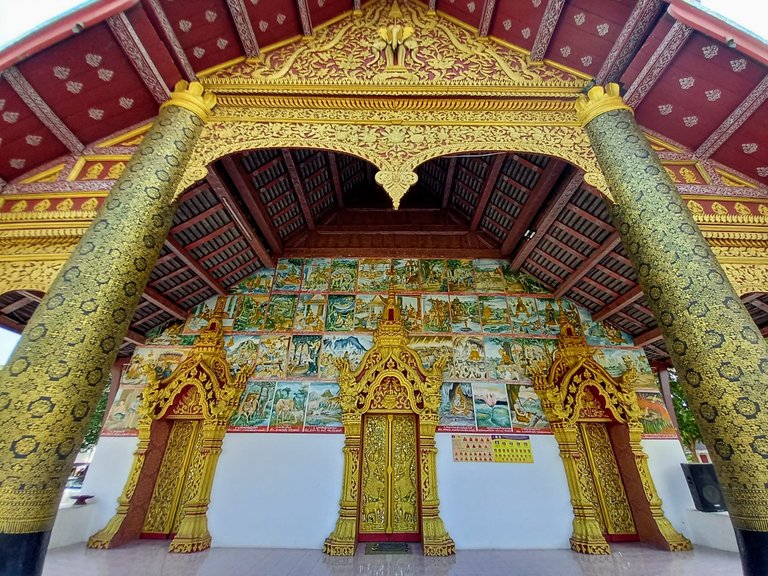 The first couple of days we went on a walk it was just Spot and I. Now it seems all of the dogs in the neighborhood follow us around. There's an ATM across the street where I live. There was this old man with the scariest-looking eyes I've ever seen and two of his young punk-looking friends who seemed like they were about to jump me when I got some cash out at 1 am. When I did my best dog bark, all of the dogs in the neighborhood came running to me and surrounded me. At first, they looked at me like a dumb white boy they were about to rip off, but when all my dog friends showed up, they just smiled and went away.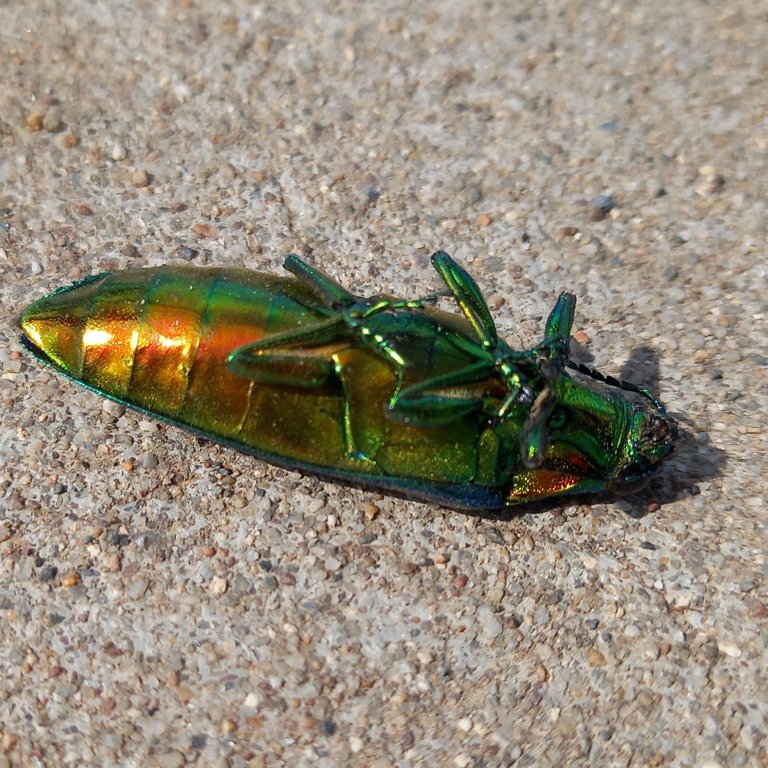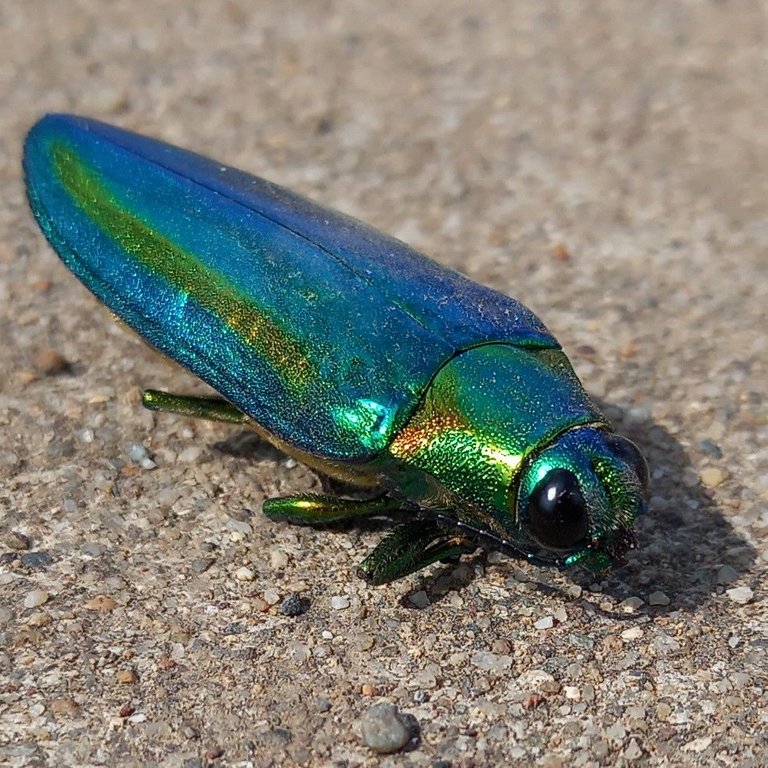 Spot found this bug. At first, I thought it was a child's toy. Then I thought it was like a royal cockroach or something. I think it's some type of wood beetle. I don't know, but it looks cool. Do you know what it is?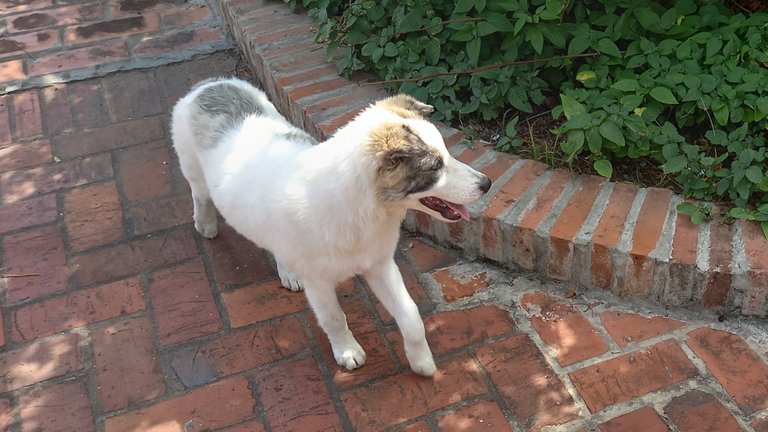 Spot followed me around town for about 10 km. He was very good about staying on the sidewalk and not running into the street, but I did have to carry him across a few intersections.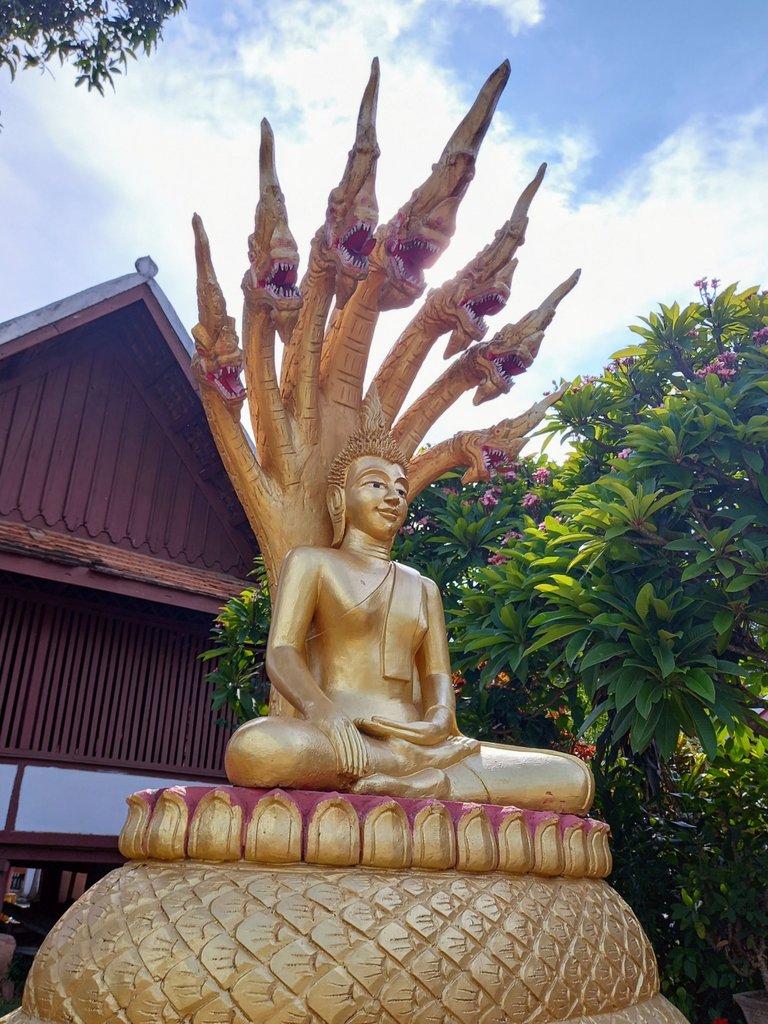 Spot likes temples. He'll lead the way in, look around a bit, then leave. Maybe he was a Buddhist in his last life.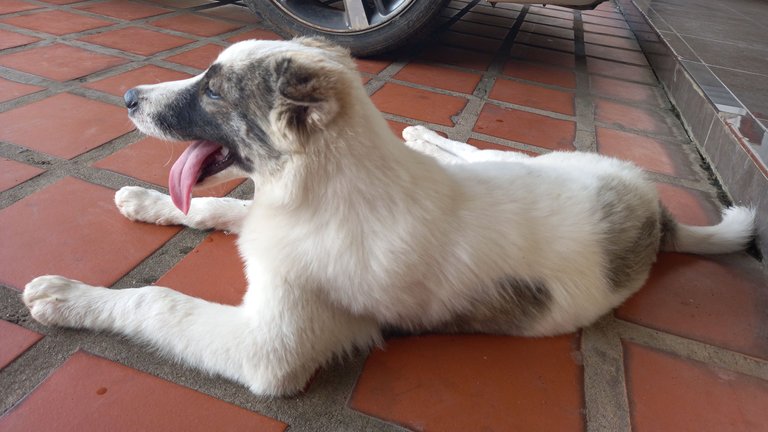 I gave him plenty of water along the way, but at one point he just wouldn't have it anymore. He laid down near a bank to cool down in the shade and close to the cool air-conditioned air blowing out the door.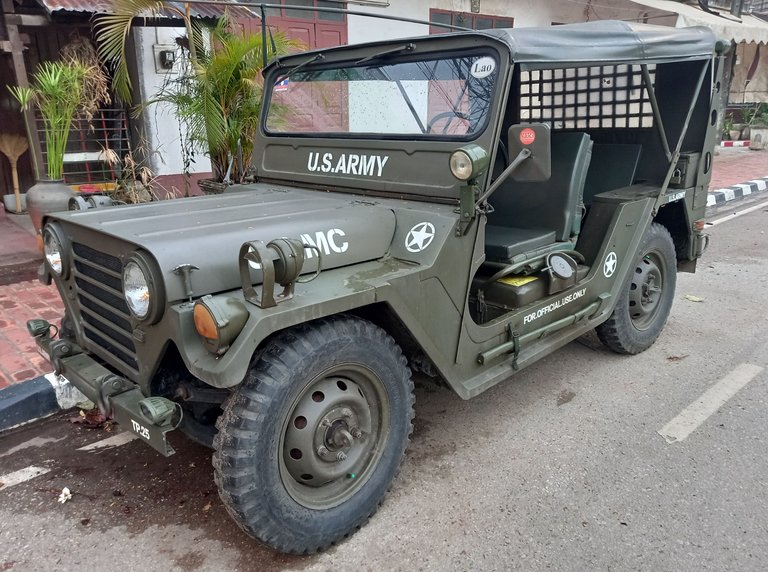 I remember when I was a kid it seemed like everybody had these old World War II Army jeeps. This one is US Army, USMC, and Laos. Is this even a US Army version? It looks a little off to me. I think it's a Russian or Chinese version but painted like an American one. They still look cool today. Imagine how cool they looked back in World War II.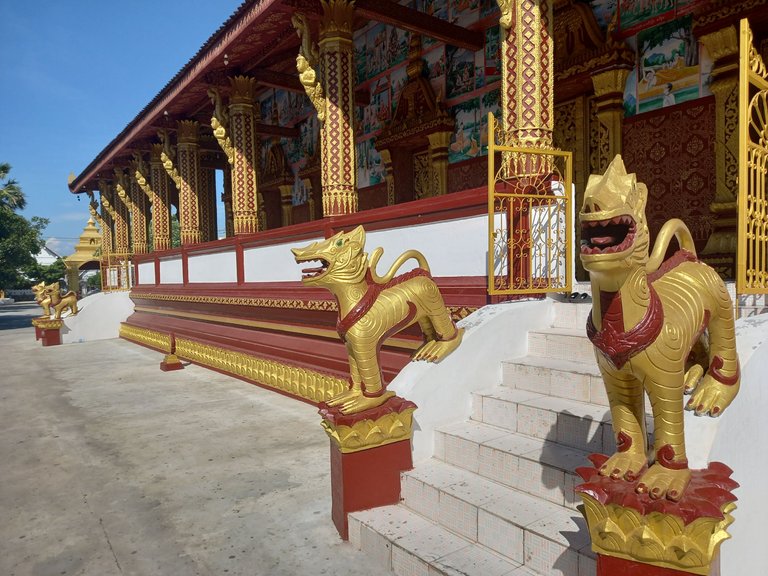 This is Mano Temple about halfway to the center of downtown Luang Prabang.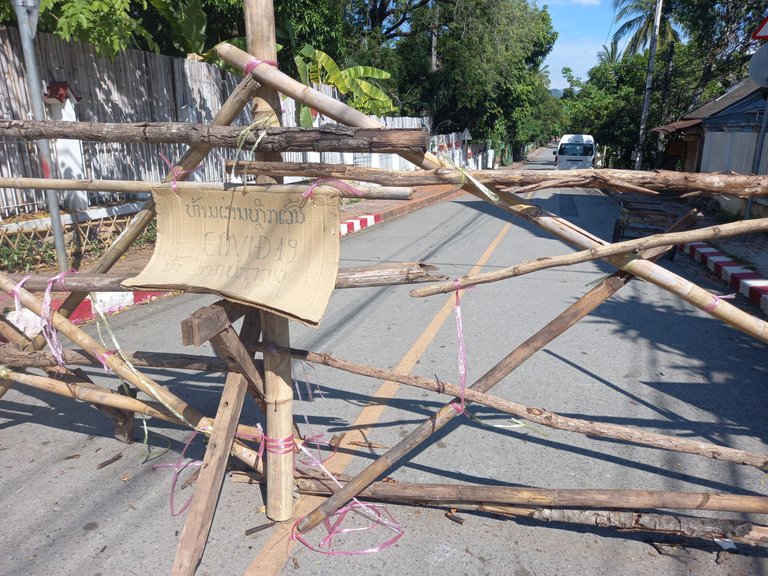 One of the things I've loved about living here is that for all of 2020 and until now, nothing was shut down. They didn't bother with restrictions except for closing down the borders, but recently everyone's gone paranoid. All the restaurants and dance clubs are shut down because an American and Korean have died of the virus.
I love the bamboo barricades they've all put up here to protect their neighborhoods. It reminds me of when I was a 10-year-old boy with a fort in the woods and a sign that said, "No girls allowed!"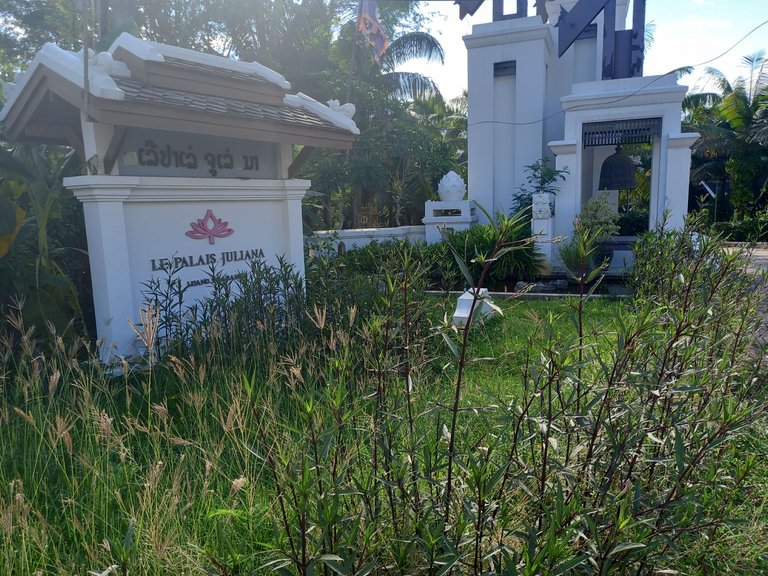 I was a hotel manager before the virus came. Now I'm just a Hive blogger and the guy who hangs out with the dogs all day. It's sad to see these nice hotels being neglected like this. A lot of my friends who worked at the hotel with me are now delivery drivers. I can't wait for this stupid virus to end and the world to come back to normal.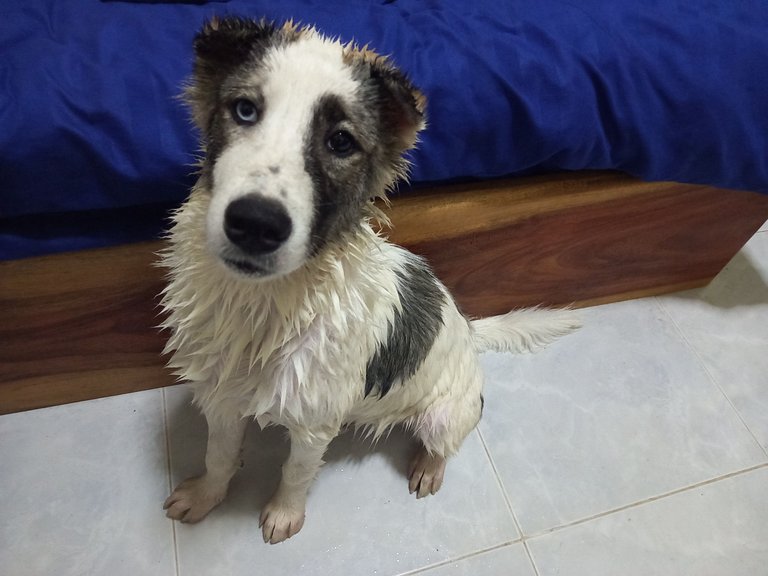 The first bath we took together Spot was acting like it was the greatest injustice in the universe. Whenever you give a dog a bath you have to be very careful never to get the shampoo or water in their eyes or nose or they'll have a very bad experience and won't ever want to take a bath again. Now he will stand up on the toilet and let me shampoo him without moving. I just have to say the same thing several times. "Don't move!"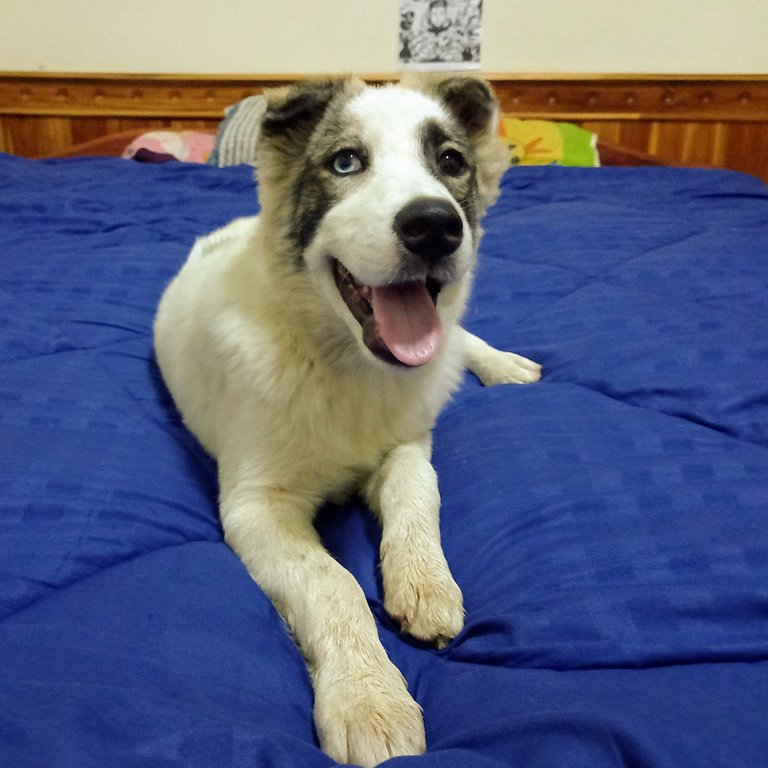 Why do dogs love getting up on the bed? I don't like him doing this because he is a tick magnet. Can you see the guilty look on his face? I feel sorry for Spot because it's so hot outside, so I'll let him stay in the room to enjoy the cool air while I'll walk to the shop to get a beer. He knows it's wrong, but he'll always sneak up there when he can.