Half-vampire, the Dhampir are faster and stronger than normal humans. Most have taken to a mercenary lifestyle, never quite welcome with vampires or humans. The Stalker is adept at tracking their prey, then dispatching the target with a silent and perfectly-placed arrow from the shadows.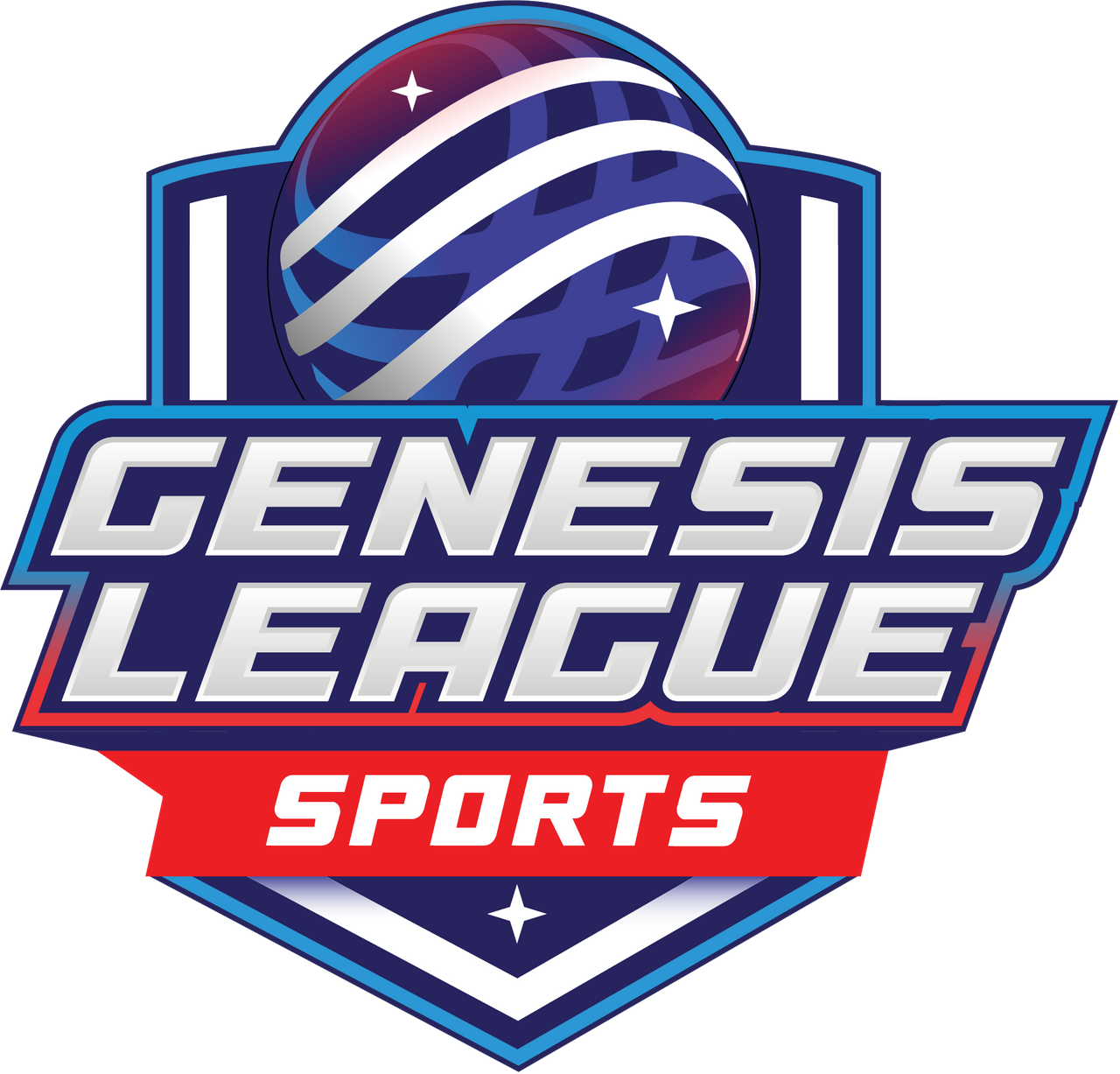 When I got my California real estate license my mentor at my first and last real estate job told me that anyone could make money when things are good, but only the best can make it through the good and the bad times. Well, I didn't like real estate. I worked for months never to get a commission, everyone was fake, and it relied on cold sales. I wouldn't say I like sales. I couldn't sell a hoverboard to a McFly on the run. I'm also a failed crypto investor so don't take anything I say here as advice.
I tried mining Bitcoin on my PC when it first came out then would sneak around at 9 pm at night to run hundreds of miners on all of the company's PCs until someone noticed all of the computers were left on all night only to lose the two coins I eventually mined. I then "invested" in lifetime cloud mining contracts only to find out that "life" only meant as long as things were profitable for the scam company only to drop their contracts. I also invested most of what I had into EOS only to get hacked by a nice-looking app and sold all of my Splinterlands cards right before the magical summer of 2021 for random DeFi projects.
As you can see I've screwed up plenty of times along the way, but I have a strong faith and belief in both Splinterlands and GLS. Buying coins and watching charts is boring and is too often the victim of the FUD, but when you have a bad-ass monster that is beautiful and can shoot both arrows and magic or your favorite player then you will be less likely to sell because of emotional and functional reasons.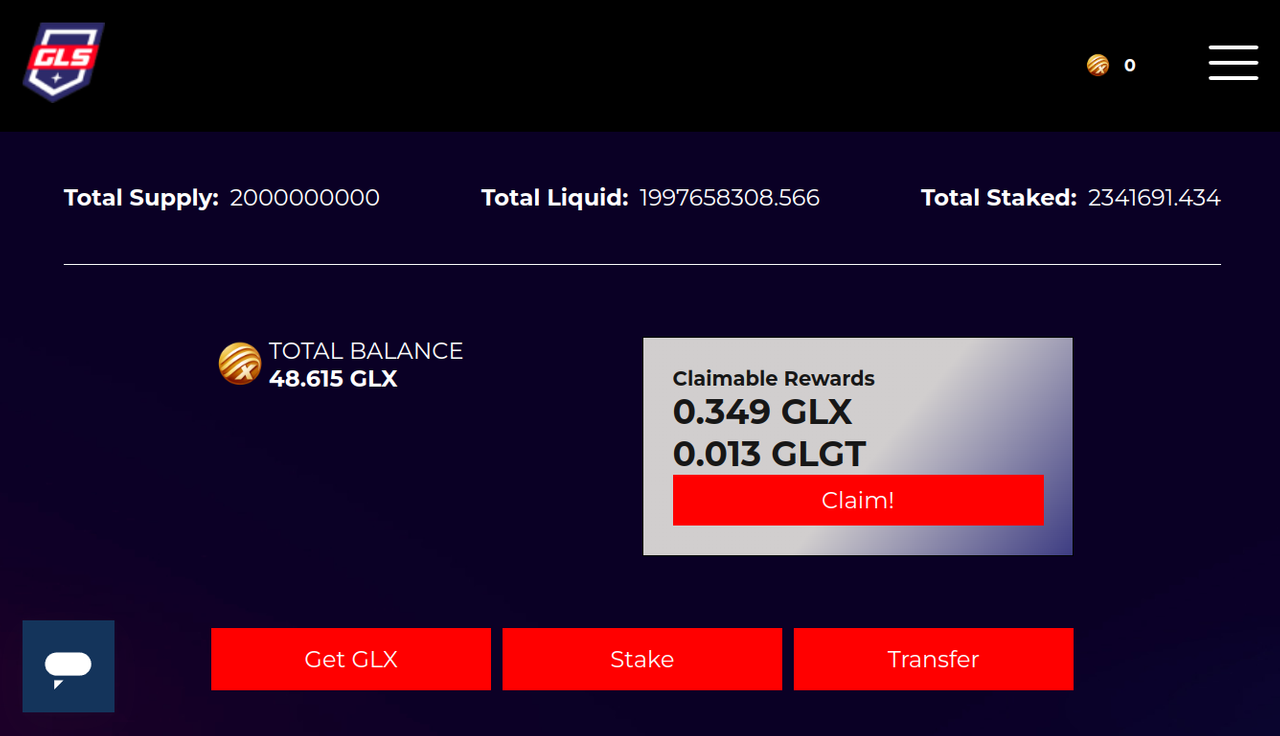 I started off with less than 50 GLX or Genesis League Governance tokens and expect to double that amount in a week. New DeFi projects are always fun, but the good times never last. It doesn't matter to me what GLX is worth because it's like SPS and will let you vote on the game's future. GLX is a governance token that enables users to participate in the GLS ecosystem. Users with staked GLX will have a say in how the overall game and ecosystem work. I wonder how many GLX or GLGT will be equal to one GLUSD or Genesis League Stable Token. Genesis League Game Time or GLGT seems to drop at about the same rate as Splinterland's vouchers do.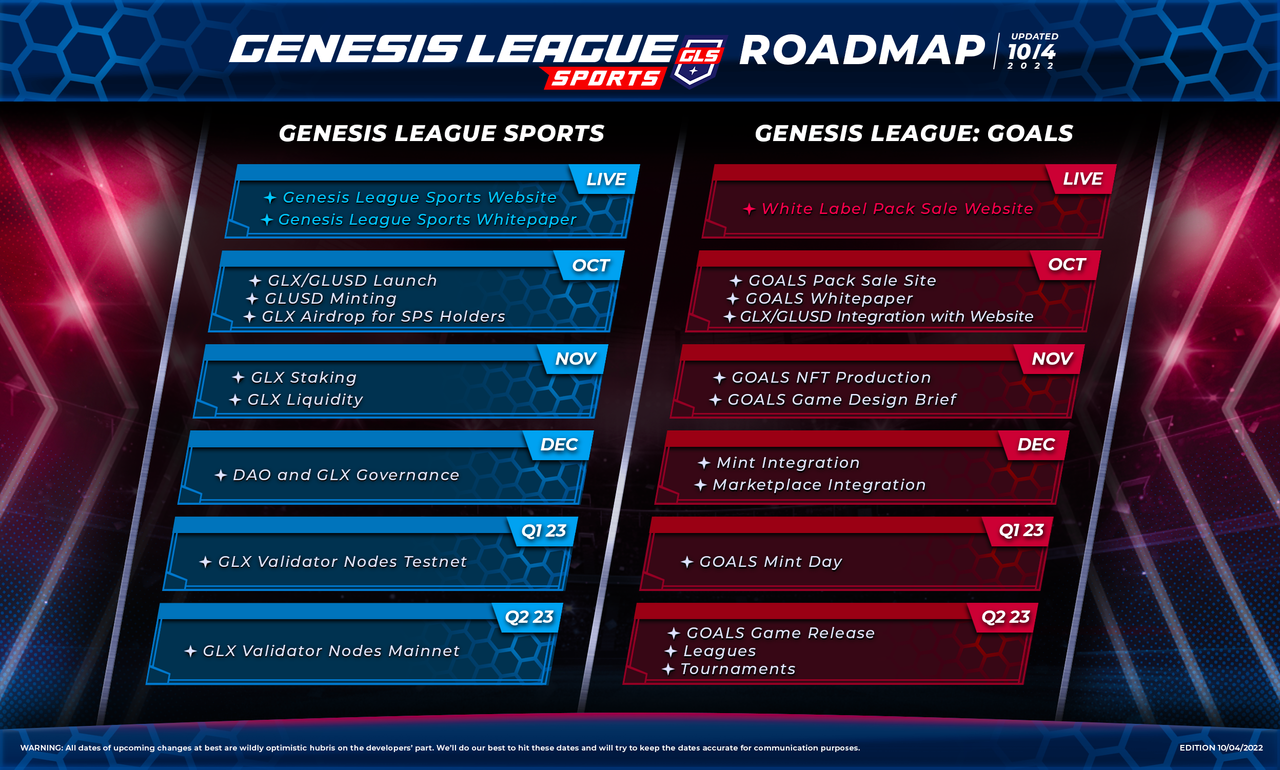 How many cards or packs do you think will be necessary to play and earn when Genesis League Goals goes live next year? Will you stop earning airdrops if you open your cards? If so I may just hold on to mine until the airdrop is complete.
Join the guild: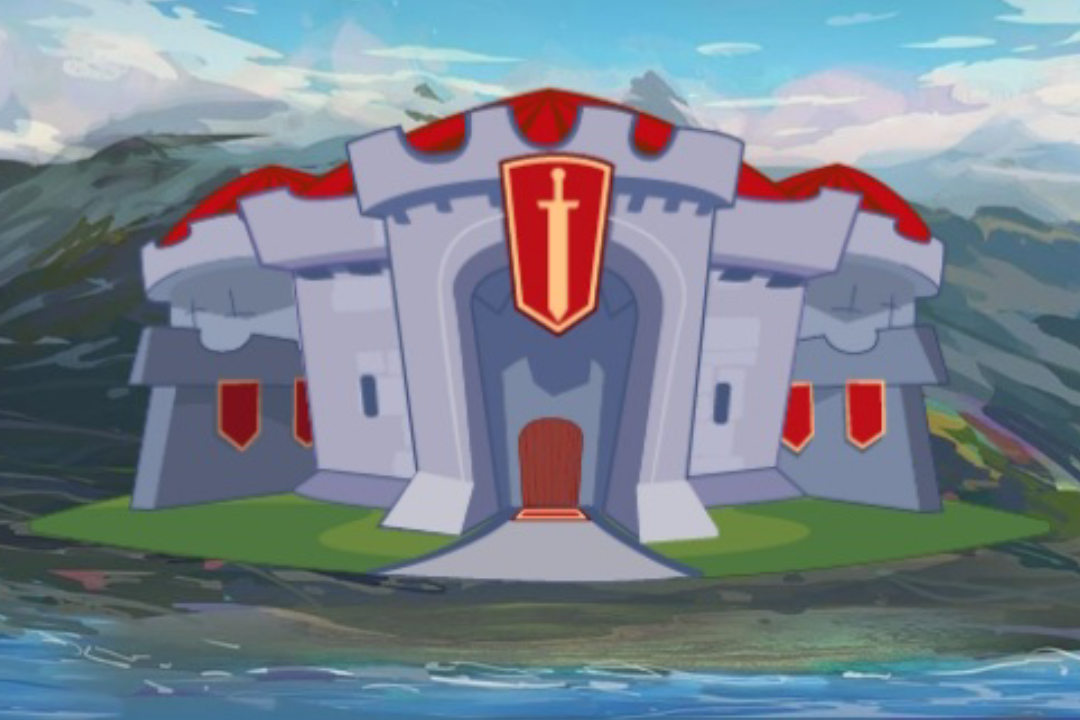 If you are not already in a guild then it's time to start looking around. We are not a bad guild, The Mandalorians, and we are in the 300th or so place and have many openings so there are many spots available, but guilds expect you to have strong decks and to contribute some DEC for construction. What they'll expect you to pay in DEC will be minimal compared to the SPS we'll all start earning soon.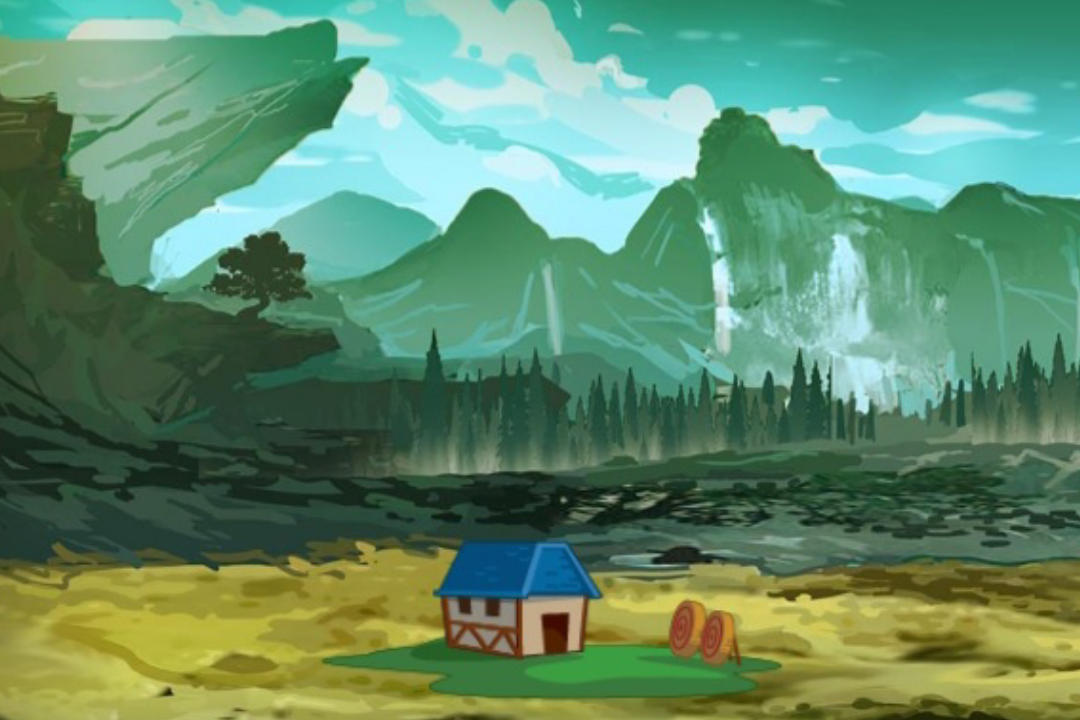 Each building should be leveled up because they all benefit your guild in different ways. It's fun seeing my team work, build, and earn together.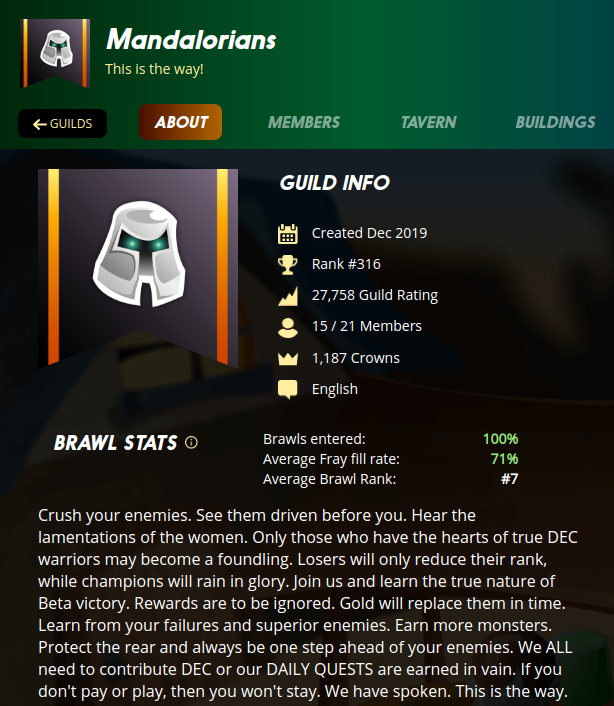 My guild doesn't always come in first place, but we've shown up to every fight so far.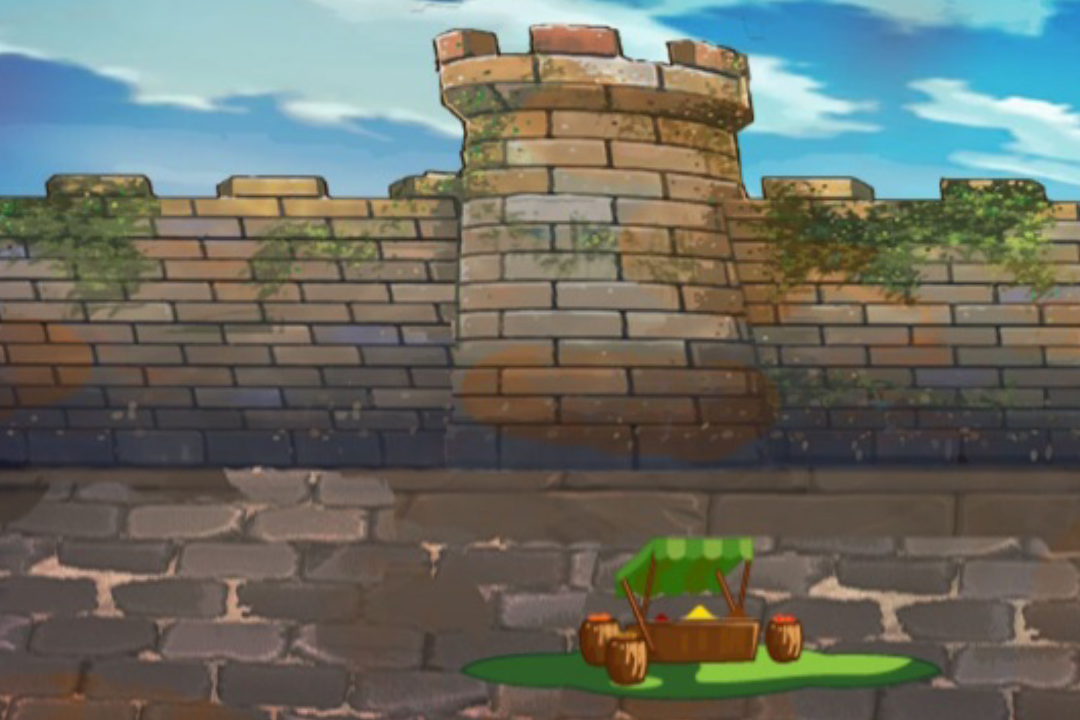 Crush your enemies. See them driven before you. Hear the lamentations of the women. Only those who have the hearts of true DEC warriors may become a foundling. Losers will only reduce their rank, while champions will rain in glory. Join us and learn the true nature of Beta victory. Rewards are to be ignored. Gold will replace them in time. Learn from your failures and superior enemies. Earn more monsters. Protect the rear and always be one step ahead of your enemies. We ALL need to contribute DEC or our DAILY QUESTS are earned in vain. If you don't pay or play, then you won't stay. We have spoken. This is the way.
My battle: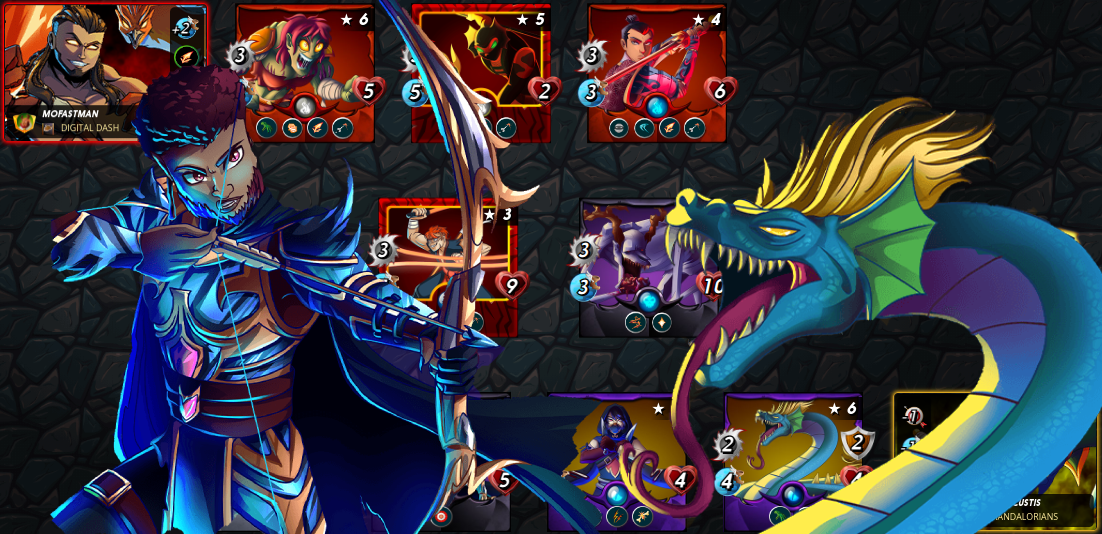 Since my dragon summoner is the only one maxed out, I'll rely on it a bit too much. Hopefully, Lux Vega won't be too much to rent. For this battle, I put out a strong tank, a reach attack, a sneak attack, and Dhampir Stalker as my ranged attack. My enemy had pretty much the same idea just using the fire splinter and an opportunity attacker.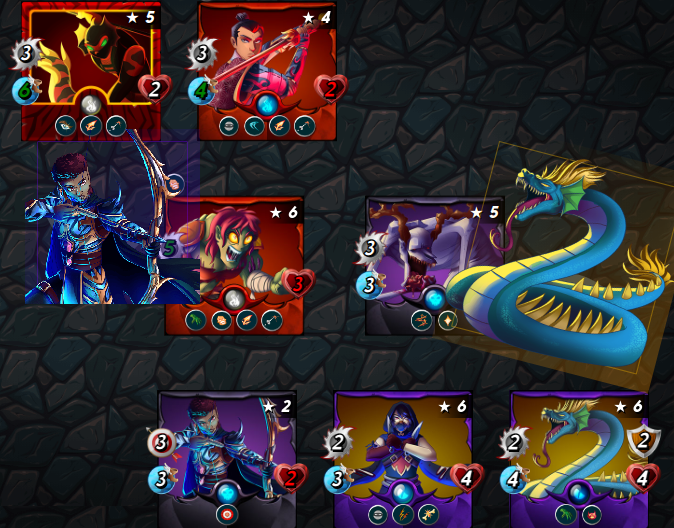 I was able to smash through their front sooner than they could destroy my rear. I lost my Dhampir Stalker, but he served as a good meat shield and got off a few rounds before he fell.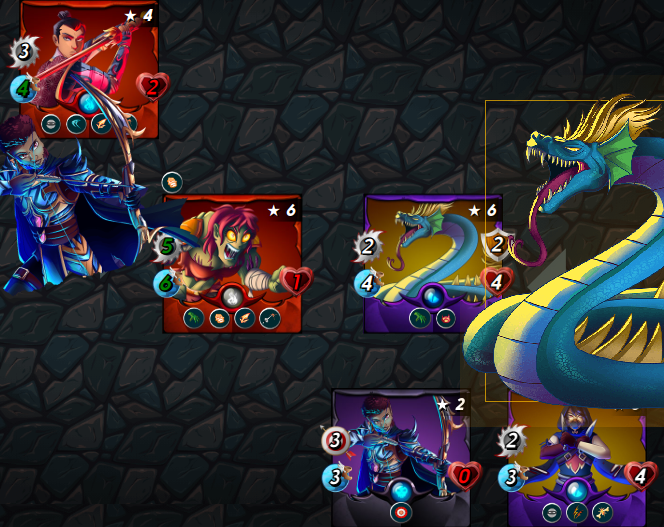 If your enemy has strong dragons, it's better to just bend the knee. Thanks for reading about my gameplay and Splinterlands journey today.

Participate in this week's Spliterlands Battle Challenge:
https://peakd.com/hive-13323/@splinterlands/share-your-battle-weekly-challenge-dhampirstalker
Check out my battle:
https://splinterlands.com?p=battle&id=sl_0c60ff507a26707565d799adf20ffc8f&ref=jeremiahcustis