Sailors tell many tales of the dangers of the Cruel Sethropods. Armed with strong pincers and teeth as sharp as spears, they attack anything that gets within range. It is nearly impossible to remove a Cruel Sethropod once it has latched on, and many a sailor has the scars to show where they ventured too close.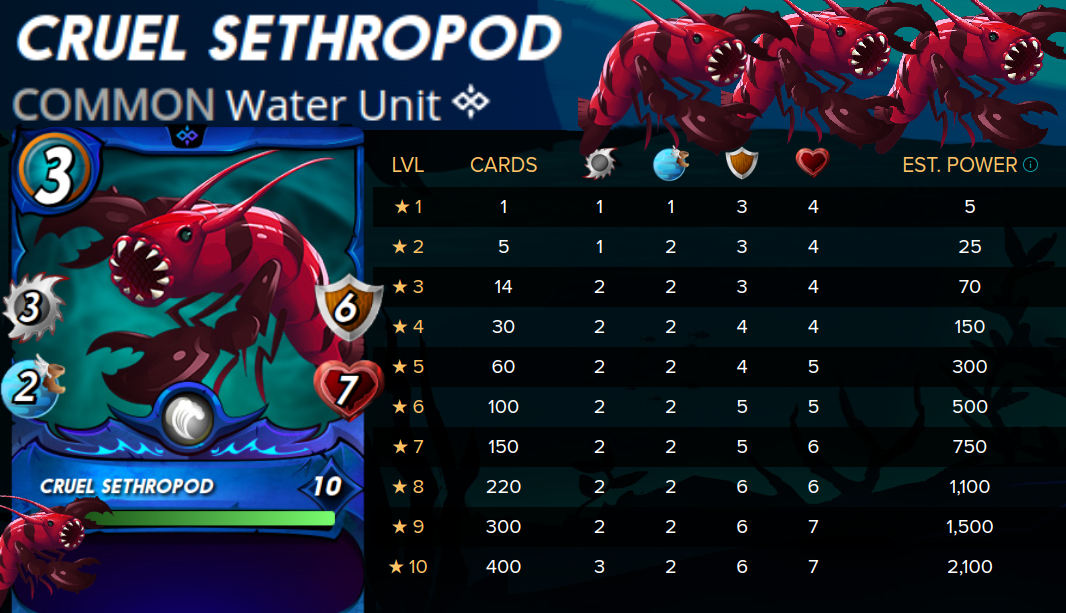 The 🦀Cruel Sethropod🦀 is a card I dismissed as weak and worthless at first, but I was very wrong because it wins a lot in certain situations like today when I used it to win an Odds Out ruleset or in Little League where only cards with 4 mana or less may be used. It may be a soft card at lower levels, but once you get it to MAX level it really shines even though it lacks any abilities. You have to admit that getting 7 life, 3 shield, and 3 melee attack is a pretty good deal for only 3 mana. I was able to pick this card up slowly for about one cent per card for free because I used the HBD I earned from participating in these weekly Splinterlands challenges. I like to go to the market and scoop up as many of the cheapest cards I can that day that I haven't MAXed out yet. I've MAXed most of my common Chaos Legion cards, but I've got a way to MAX the whole deck which is something I failed to do in Beta or Untamed, but I feel I need to do If I'm going to eventually compete in the 🏆Champion League🏆.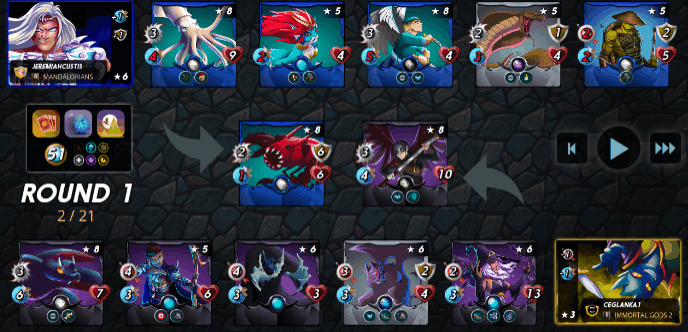 I don't usually put my 🦀Cruel Sethropod🦀 into high mana battles, but it worked out today even though it fell in the first round. It used up only 3 mana and put up enough of a roadblock for me to delay the enemy while I used the mana on other cards. There weren't any magic attacks allowed so I was able to repair armor to the front long enough for my two sneak-attack monsters to destroy my enemy bit by bit from the rear. My enemy relied on ranged attacks. They were strong enough to take out my 🦀Cruel Sethropod🦀 and 🦑Flying Squid🦑 but not fast enough before I took out their team from the back. A lot of Splinterlands players focus too much on their frontal attacks, but forget that sometimes attacking the enemy's soft rear is the best approach.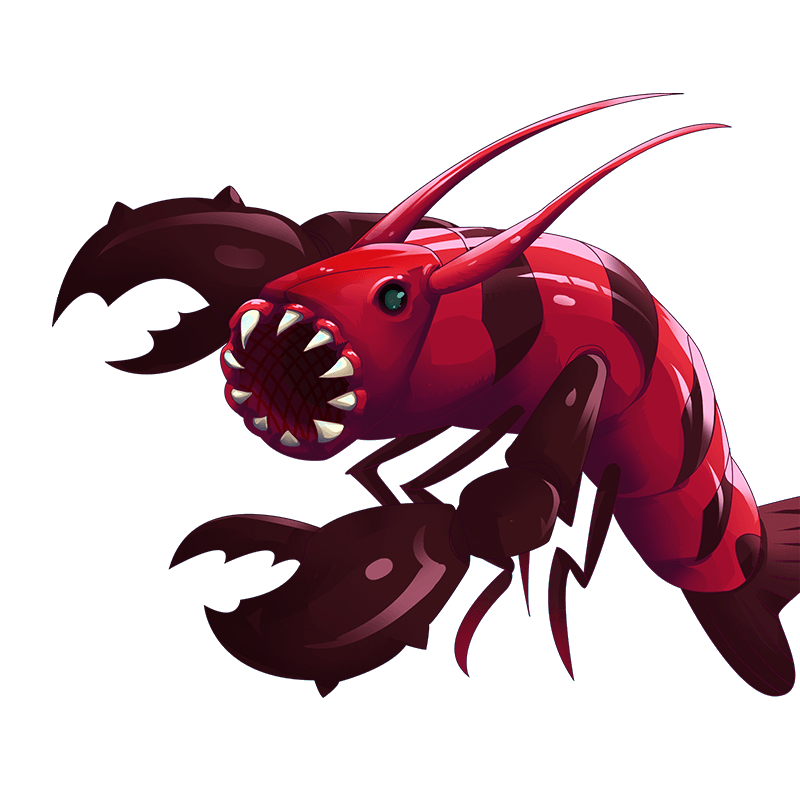 Thanks for reading about my Odds Out battle using the 🦀Cruel Sethropod🦀 today. I know a lot of players are getting frustrated with all of the delays with the release of Land 1.5, but I'm happy it's taking forever because Land will surely jack card prices up and I haven't prepared my DEC or land workers plus we've already waited for years so what's a few more weeks?

Check out my battle:
https://splinterlands.com?p=battle&id=sl_f70f5d8f519db98ecefcbda32d0dab5f&ref=jeremiahcustis
This week's SPLINTERLANDS BATTLE MAGE SECRETS Challenge:
https://peakd.com/hive-13323/@splinterlands/battlemagesecrets-september-6-2023
Check out my original artwork at NFTShowroom:
https://nftshowroom.com/jeremiahcustis/gallery
Check out some amazing art by the Splinterlands community:
https://peakd.com/hive-13323/@splinterlands/splinterlands-art-contest-week-257

by @alexa.art